Voucher Collection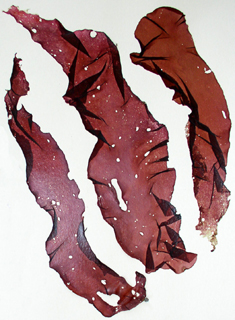 Voucher specimens were collected from 12 survey sites between November 2002 and July 2003. The purpose of the collection was to confirm the identification of species included in the Coastal Biodiversity Surveys and increase opportunity for future genetic and morphological research. Sites sampled between 2001-2002 were sorted into regional groups based on biological similarity. (See FINDINGS for more on the regional groups.) One representative site from each region was chosen for the voucher collection.
A sample of each species included in the Survey data was collected. Samples of algae were pressed and are housed at the University of California Berkeley's University and Jepson Herbaria. Invertebrates collected are preserved in 95% ethanol and are housed at the California Academy of Sciences. Sensitive species were not collected.
Click on "Algae" or "Invertebrates" below to view photographs of algae vouchers or a species list of invertebrate vouchers collected.
| | | |
| --- | --- | --- |
| Alegria, CA | Algae | Invertebrates |
| Andrew Molera, CA | Algae | Invertebrates |
| Crystal Cove, CA | Algae | Invertebrates |
| Cuyler Harbor, CA | Algae | Invertebrates |
| Fogarty Creek, OR | Algae | Invertebrates |
| Fraser, CA | Algae | Invertebrates |
| Johnson's Lee, CA | Algae | Invertebrates |
| Kibesillah, CA | Algae | Invertebrates |
| Pigeon Point, CA | Algae | Invertebrates |
| Prisoners, CA | Algae | Invertebrates |
| Stairs, CA | Algae | Invertebrates |
| Taylor Point, WA | Algae | Invertebrates |