If you are planning to contact the SWAT Team about obtaining more information or data please click on: Data/Info Request Form.
The SWAT Team
The name SWAT is not an acronym, but a nickname that came along with the idea that a group of researchers was needed to travel along the coast quickly surveying as many sites within a minus tide series as possible. Additional meaning has since been derived for the word: Stinking, Wrinkled And Tough, Soaking Wet And Tired,SeaWeed Action Team.
As of 2011 this website is no longer being updated. For more information about our rocky intertidal research, please visit pacificrockyintertidal.org
Principal Investigator
Pete Raimondi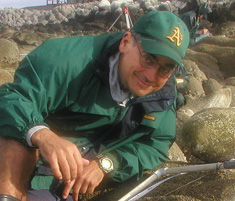 More about Pete
Long Marine Laboratory
100 Shaffer Rd.
Santa Cruz, CA 95060
Office: 831.459.5674
Fax: 831.459.3383


BACK
to top of page.